Your front porch gives people their first impression of your home. It is a great place to relax in the evening, and it gives your kids a space to take off their muddy shoes before coming inside on a rainy day. However, wooden decks need regular resealing and can fall victim to hungry termites and harsh sun exposure.
If you're just starting to think about the benefits of stone porches, here are some front porch stone ideas to give you some design inspiration.
Installing stone on your front porch makes the area more durable, and it needs less maintenance than wood. The StoneDeks System provides sturdy subflooring to handle the weight of stone installed on newly built or pre-existing floors.
Slate comes in neutral tones and has a look similar to traditional kitchen tile. It looks great with white accents and a pop of color to show your personal style.
Dark stone has the look of wood without the upkeep. The darker color hides dirt and complements a natural wood ceiling. Pair it with a red front door to create the feel of an English cottage.
3. Natural Stone Fireplace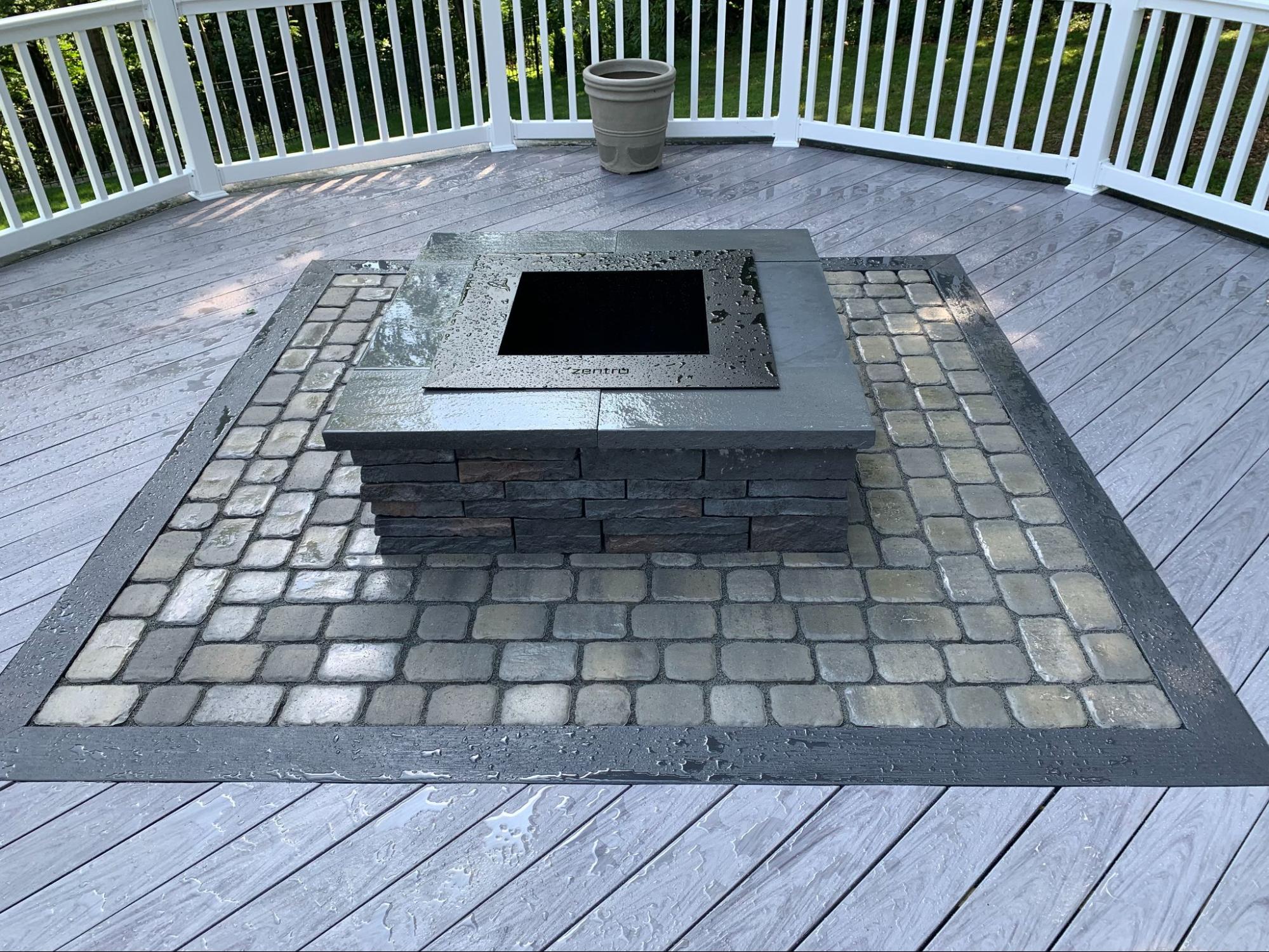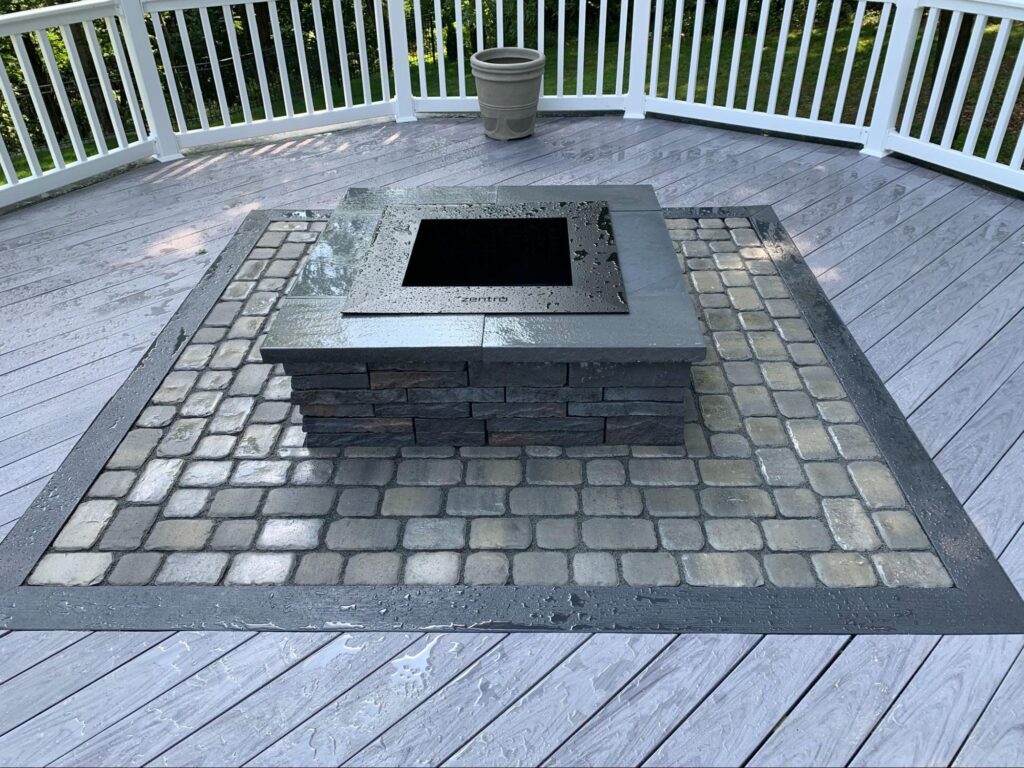 Elevate your seating area with a cozy fireplace encased in natural stone. It creates a warm, rustic environment to relax as temperatures drop. A fireplace is one of our favorite front porch stone ideas.
The naturally textured surface of cholla beige flagstone makes your porch look rustic and lived-in. It is durable enough to withstand all types of weather while retaining its original color.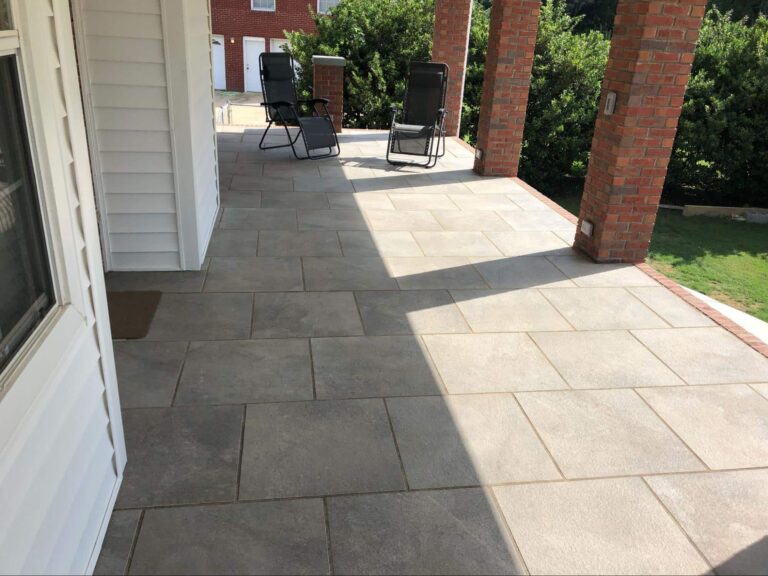 Concrete gives your home an industrial look that is popular among homeowners. Some homeowners customize their concrete porches with epoxy floor covering, allowing them to add custom texture and color.
When you think about remodeling your front porch, why should you consider stone over wood? There are a few good reasons:
Durability: Stone can handle many years of bitterly cold Ohio winters as well as harsh summer sun without deteriorating. Stone installation is an investment in your home's future.
Customization:

 Stone comes in multiple different styles and colors to suit any decor you have in mind.

Maintenance: 

Unlike wood, which needs annual maintenance and replacement to avoid rot, stone is non-porous and needs very little maintenance. Sweeping occasionally to remove debris is enough to maintain stone flooring, even outside.
Easy Stone Installation from StoneDeks
Your front porch has just as much design potential as the rest of your home. If your mind is buzzing after reading our list of front porch stone ideas, take a look at our elevated stone deck ideas to continue your journey to creating your perfect outdoor space.
StoneDeks provides SilicaGrates and SilicaSpacers to make stone porch installation safe and easy. If you have any questions or would like to get a quote, fill out our online form or call our team at 330-821-1585.