Are you curious about the possibilities of elevated stone decks? Then, you've come to the right place! Today, we will introduce you to 5 unique elevated stone deck ideas, all easily achievable using the revolutionary StoneDeks System.
Just imagine stepping out onto a beautiful elevated stone deck with breathtaking views and luxurious features. As you explore these captivating elevated stone deck ideas, prepare to be inspired to create the perfect space for relaxation, entertaining, and making memories with loved ones.
#1 Elevated Stone Deck And Complementary Walkway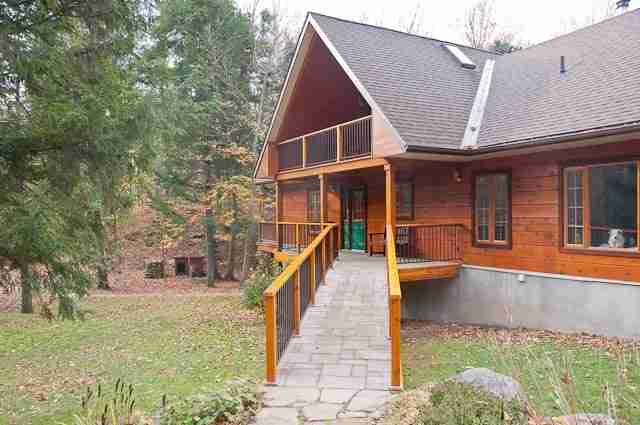 You can achieve a harmonious and visually appealing outdoor space by using the same hardscape materials for both your elevated deck and connecting path. For example, the elevated stone deck shown above cohesively integrates these two elements, resulting in a consistent and well-balanced look.
The StoneDeks System offers the perfect solution for bringing this stunning design concept to life. Utilizing the SilcaGrate support underlayment, you can effortlessly install stone or pavers on any deck frame, creating a durable and elegant elevated stone deck.
For the walkway, the StoneDeks System offers the innovative Silca SoilGrid. This heavy-duty linking grid provides superior stabilization for your base materials, ensuring a strong and reliable in-ground hardscape. With its easy installation, you can build a durable path made from the same materials as your elevated stone deck, further enhancing the visual harmony of your outdoor space.
#2 Elevated Concrete Deck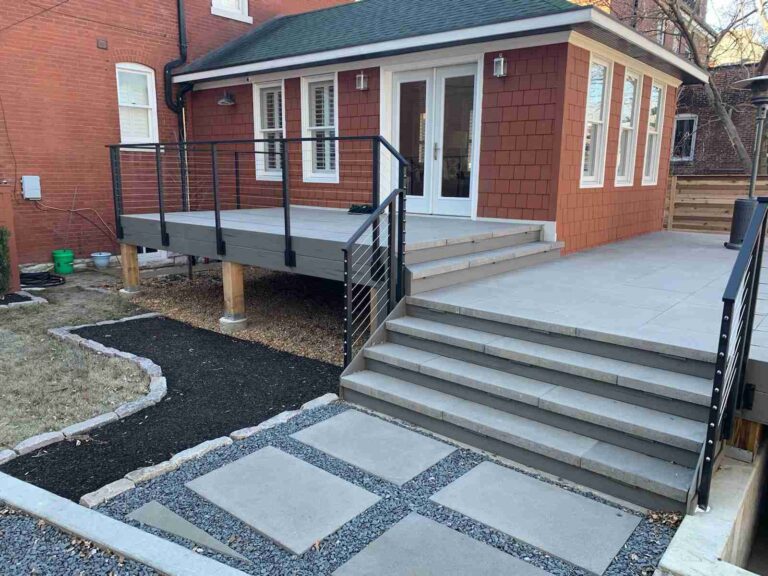 An elevated concrete deck is the perfect solution for homeowners seeking a sleek, modern look. This striking design choice merges the minimalist appeal and clean lines of concrete with the practical benefits of an elevated deck, resulting in a stylish and low-maintenance outdoor area.
When it comes to durability, an elevated concrete deck is unparalleled. Concrete is known for its strength and longevity, ensuring your deck will withstand the test of time and weather conditions.
With the StoneDeks System, incorporating concrete flooring becomes even easier. By utilizing the SilcaGrate support underlayment, you can easily install concrete slabs on top of a wooden or metal deck frame, providing a sturdy foundation for your elevated concrete deck.
#3 Center Stage: Elevated Composite Deck with Stone Fire Pit Area

This deck idea showcases an elevated composite deck with a stunning stone flooring area in the center, complete with a cozy fire pit. Surrounded by the green beauty of trees and nature, this inviting space guarantees a unique experience for family and friends.
One of the key benefits of incorporating stone in your fire pit area is its excellent heat resistance. Stone can withstand high temperatures without damage, making it an ideal choice for creating a safe and long-lasting fire pit zone. In addition, the natural textures and colors of stone pavers add visual interest and complement the surrounding composite decking.
#4 Elevated Deck With Stone Flooring In The Outdoor Kitchen Area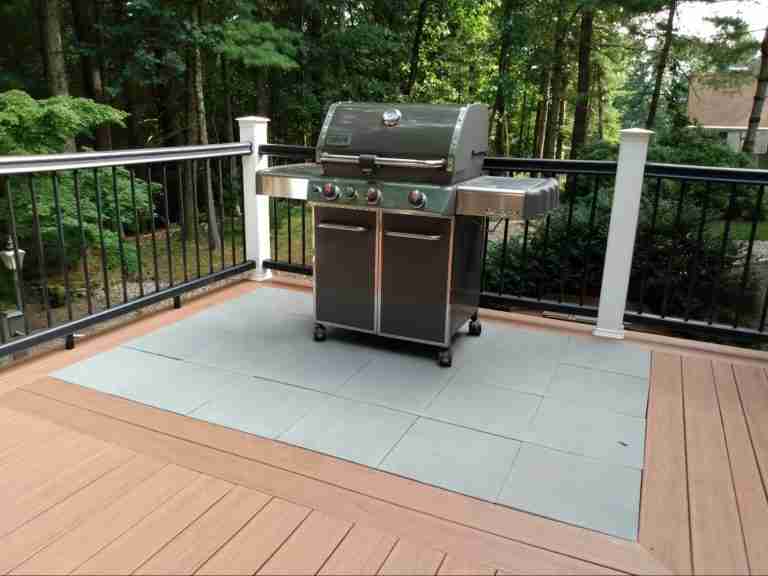 Transform your outdoor cooking experience with an elevated deck that features a dedicated stone flooring area for your grill or outdoor kitchen.
Stone flooring is ideal for outdoor kitchens due to its heat resistance, strength, and low-maintenance requirements. It can withstand the wear and tear associated with outdoor cooking, such as spills, grease splatters, and high foot traffic while maintaining its attractive appearance. With minimal effort, your stone flooring will remain pristine, allowing you to focus on what really matters – enjoying your delicious culinary creations and spending time with loved ones.
#5 Elevated Stone Deck With Composite Decking Picture Frame Border
Create a visually captivating outdoor space with an elevated stone deck that features a composite picture frame border. This unique design concept combines the natural elegance of stone with the modern appeal of composite decking, resulting in a sophisticated and visually striking look.
One of the main benefits of using composite decking for your picture frame border is the ease of installation for additional features like railings. The compatibility of composite decking products with various railing systems allows for a more straightforward installation process.
In addition, composite decking simplifies the integration of floor lighting. Many composite decking manufacturers offer built-in lighting solutions, such as LED lights recessed within the decking boards themselves.
Redefine Your Outdoor Living Experience With StoneDeks
The StoneDeks System revolutionizes the way in which elevated decks are designed and built. With the ability to effortlessly incorporate a range of hardscape materials, from natural stone to porcelain tile, brick, travertine, granite, and more, the possibilities for creating your dream outdoor space are virtually endless.
Now is the time to redefine the boundaries of your deck experience. We invite you to explore the endless possibilities that the StoneDeks System has to offer and transform your outdoor space into a stone masterpiece that reflects your style and personality.