Decks are terrific home additions that offer impressive versatility, allowing you to create a new family gathering space, an outdoor kitchen, and much more. While you have many options for materials and brands, the StoneDeks system offers unique benefits that make it ideal for any decking project. 
Enhancing outdoor living spaces has never been easier for deck builders, thanks to the innovative solutions provided by StoneDeks. Our range of products is specifically designed to streamline the process of building stone decks, offering a robust and aesthetic alternative to traditional decking materials. Discover the unparalleled advantages of integrating StoneDeks into your next decking project.
Why Choose StoneDeks for Your Decking Solutions?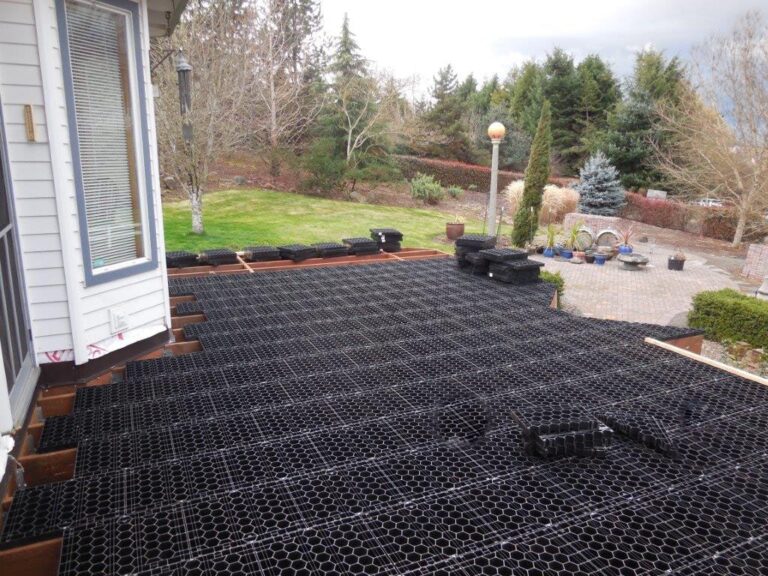 Forget the conventional brown wood decks and say hello to a world of durability, style, and ease with StoneDeks. Our products are engineered to perfection, ensuring that deck builders can effortlessly create stunning outdoor spaces using stone, pavers, brick, or tile. Let's delve into the unique products we offer and why they stand out in the market.
SilcaGrate™: The Foundation of Excellence
At the heart of our system is SilcaGrate™, a structural support underlayment designed to hold any type of stone, paver, or brick on both wood and metal frame structures. This innovation ensures a stable and durable foundation for your deck, providing long-lasting support and reliability.
Silca Soil Grid™: Stability Like Never Before
Building a stronger hardscape has never been more straightforward. With Silca Soil Grid™, deck builders can link multiple units together, stabilizing the base material and ensuring an even more robust decking solution.
SilcaSpacers™: Precision and Durability
Achieve perfection in your decking projects with SilcaSpacers™. These spacers create a reliable sub-flooring system, ensuring even spacing and optimal support throughout the deck. They work in harmony with other StoneDeks products to provide a comprehensive solution for any outdoor project.
SilcaMat™: Defying the Elements
Addressing concerns of mold, bacteria, and climate instability, SilcaMat™ offers unparalleled resistance. Stable in both hot and cold climates, this addition to your decking project ensures a clean and healthy outdoor living space.
Revolutionize Your Outdoor Spaces
StoneDeks is not just a product; it's a solution. Our system is tailored for deck builders looking to elevate their craft and deliver exceptional outdoor living spaces. With our products, you're not just building decks; you're creating durable, stylish, and innovative outdoor experiences that stand the test of time.
An Efficient and Professional Installation Process
The StoneDeks system is a great choice, whether replacing an outdated deck or building a new one from scratch. The process starts when your StoneDeks deck builder uses SilcaGrate — an innovative grate system — to cover the joists. Not only does SilcaGrate create an even foundation for your new deck, but it also uses recycled materials, allowing you to enjoy a more eco-friendly home improvement project.
Next, your deck builder places the SilcaMat on top of the SilcaGrate to help prevent mold and bacteria growth. Finally, they place the pavers, stones, or hardscaping material of choice on top of the SilcaMat and add the finishing touches to your new, stunning deck.
The StoneDeks System Offers Durability and Style