Surrounding your backyard swimming pool with a stone deck creates an elegant look that elevates your property, but with so many options, finding the perfect natural stone pavers for patios and multi-level pool decks isn't always a simple decision. Here, we offer some tips on how to choose the best stone for pool decks.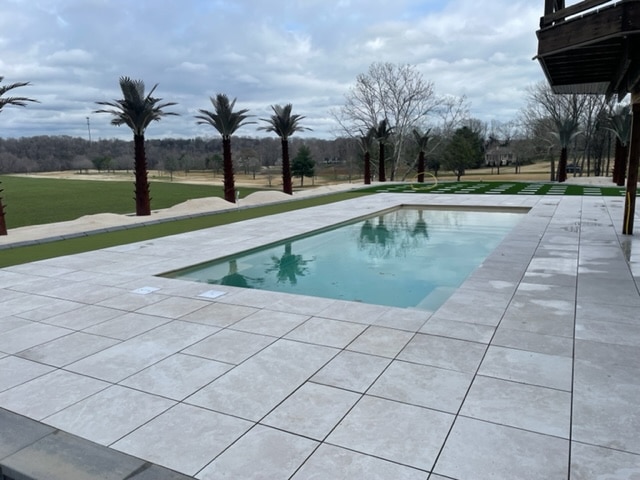 Obviously, you want your pool patio to look great. That means considering factors like the size, shape, color, and paver pattern to give the pool area the right feeling. 
Color
In general, light-colored stones stay cooler in direct sunlight. Coordinate the stone color with your home or other stones in your yard for a cohesive look. 
Shape 
Installing irregularly shaped pavers gives the pool deck a more natural look, while square or rectangular pavers are more refined. The design pattern can also completely transform the pool's appearance, so consider how the shape works with your vision.
Scale 
The size of the stone tiles also influences your property's overall look. Generally, larger pavers look best in expansive spaces, and anywhere you want a grand appearance. Smaller pavers can make the pool area feel more intimate and are ideal for details and intricate patterns. 
Texture
The stone's texture contributes to the pool deck's overall appearance. When you want a more organic feeling, choose a naturally cleft stone made by splitting the rock at a natural break. If you prefer a refined appearance, choose a stone with a smoother surface honed by hand or machine.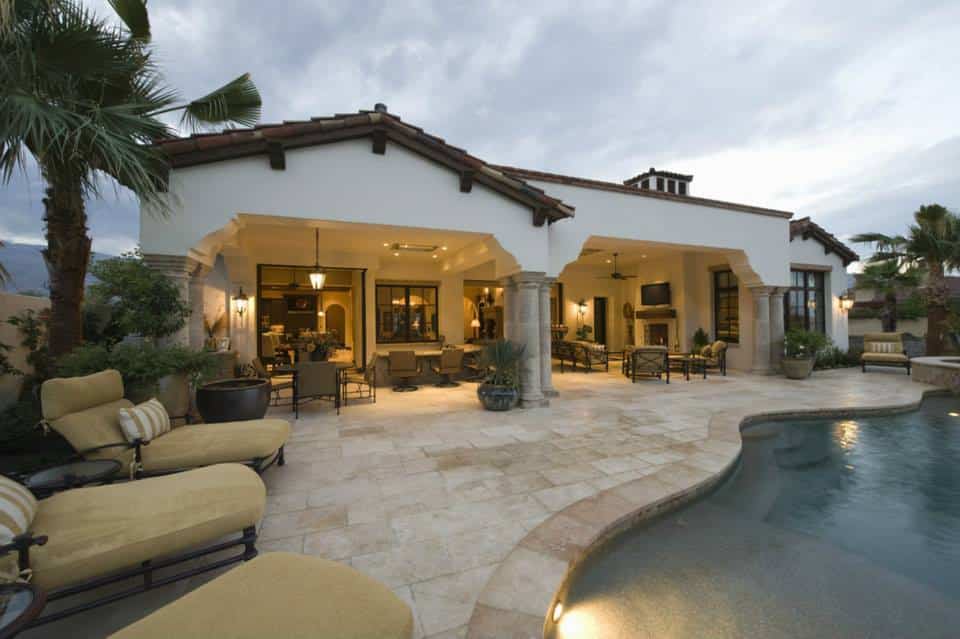 The look of the stone is important, but you also want your pool deck to withstand all weather conditions, be safe, and last for many years. That's why you need to consider some crucial performance elements of any product. Here's how to choose the best stone for pool decks based on performance.
Winter Strength
If you live in a colder climate with annual freeze-thaw cycles, you need a stone that doesn't absorb a lot of moisture. Too much moisture can cause the pavers to crack and break, as the water will freeze and expand when temperatures drop. Granite naturally resists water, but other types of stone, including some limestone and sandstone options, can hold up to winter weather.
Heat
On a hot summer day, you don't want the stones around the swimming pool to heat up and feel too hot underfoot. Choose a colored stone that resists heat; light-colored pavers tend to stay coolest, but if your deck doesn't get hours of direct sunlight, go for a darker stone. 
Slip Resistance 
Pool decks get wet and slippery, so choose one that is slip-resistant. This means installing a paver with some irregularities rather than a smooth or polished stone to ensure plenty of grip.
Choose StoneDeks Products For Pool Deck Tile Installation
Upgrade your pool decks with stone using StoneDeks revolutionary SilcaMat, SilcaGrid, and SilcaGrate products for a long-lasting and low-maintenance finish. Even above-ground pools can have a beautiful stone deck thanks to StoneDeks support systems, so get in touch with an installer today for advice on how to choose the best stone for pool decks and transform your yard. Feel free to reach out or call 330-821-1585 to talk to one of our experts with any questions or inquiries about stone pool deck selection.