There's nothing quite like lounging outdoors in your very own sanctuary, sipping a cool drink, and taking in the sights and sounds of nature. But before you can kick back and relax, you must decide on the perfect outdoor living space – a deck or a patio? It's a tricky decision that can leave you feeling overwhelmed, but fear not! In this blog post, we will break down the battle of the backyards and give you all the juicy details you need to make the right decision. So grab some popcorn, get comfy, and let's explore the pros and cons of both decks and patios!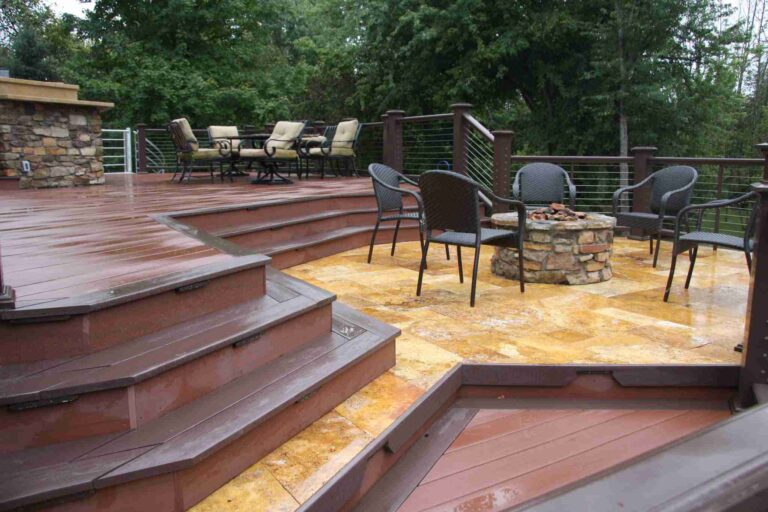 Decks are raised outdoor living spaces, often built from materials such as wood, composite, or PVC. Key features of decks include their elevated design, panoramic views, and design flexibility. Decks are ideal for various landscapes, including uneven or sloping yards, and can be customized with unique elements like built-in seating, multiple levels, and lighting.
Elevated views:

Decks provide an elevated vantage point, offering better views and improved ventilation compared to ground-level patios. 

Design flexibility:

Decks offer a high degree of design flexibility,

allowing you to create a unique space tailored to your specific needs and home's architectural style. 

Ideal for uneven terrain:

Decks are easier to install in challenging terrain or sloping yards than patios.

Multi-level options:

Decks can be designed with multiple levels, allowing for creative utilization of space and providing distinct areas for various activities, such as dining, lounging, or entertaining.
Regular maintenance:

Depending on the material used, decks may require periodic maintenance, such as staining, sealing, or painting, to prevent rot, fading, or insect damage.

Shorter lifespan:

Decks typically have a shorter lifespan than patios, with wooden decks needing replacement every 10-15 years.

May require permits and inspections:

Building a deck may require permits and inspections, depending on local regulations and the deck's size and height.

Safety concerns

: Elevated decks require railings and proper support to ensure safety, which can add to the cost and complexity of the project. Additionally, there is a potential risk of fire hazards or collapse.

Higher initial cost than a patio:

Decks generally have a higher initial cost than patios, but this greatly depends on the materials and installation methods used. 
Materials Commonly Used In Deck Construction
There are two primary materials used in deck construction: wood and composite.
Traditional wood decks can be built from pressure-treated lumber, cedar, or redwood. Wood decks are known for their natural beauty, but they require regular maintenance, such as staining and painting, to stay in good condition. Maintaining a wood deck is no easy task – expect to spend thousands of dollars over the years on upkeep.
On the other hand, composite decks are made from a blend of wood fibers and plastic materials. They offer a low-maintenance alternative to wood decks, with increased resistance to fading, staining, and warping. Composite decks don't require regular upkeep to stay in good condition and usually last 25-30 years.
In addition to wood and composite decking, the StoneDeks System introduces a new and innovative option for homeowners seeking an alternative to traditional deck materials. Our revolutionary system allows for the use of a variety of hardscaping materials, such as porcelain tiles, pavers, granite, marble, limestone, and other stones, to create a durable deck surface. Discover how to create stone decks with our system!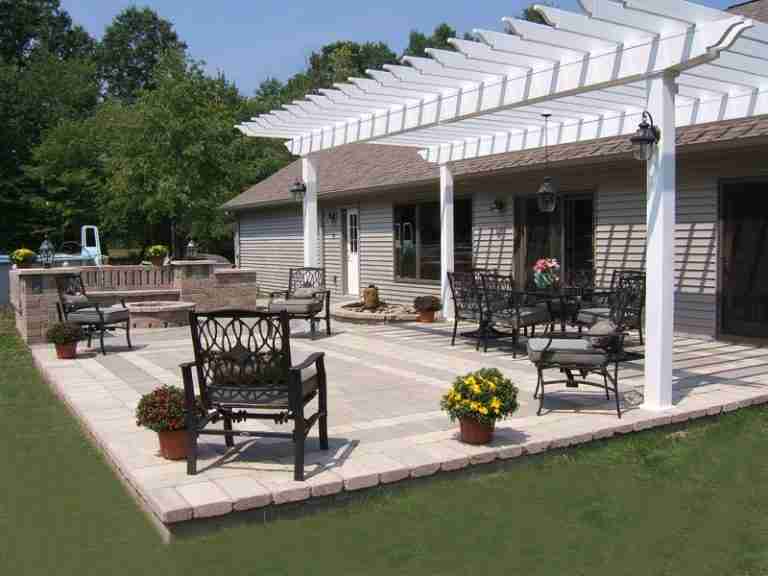 A patio is an outdoor living space located directly on the ground, often next to a home or other structure. Unlike decks, patios don't require railings or a wooden frame. The key features of a patio include its ground-level design, integration with landscaping, and the use of materials such as concrete, pavers, or natural stone.
Longer lifespan:

Patios can last for decades, providing a more permanent outdoor living solution compared to decks.
Low maintenance:

Patios typically require minimal maintenance, especially when constructed from durable materials like concrete or pavers.

Affordable:

Concrete patios, in particular, are a more budget-friendly alternative to decks, offering lower initial construction costs.

Integration with landscaping:

Patios can seamlessly blend into your landscape design, creating a cohesive and harmonious outdoor space.
Limited to ground-level installations:

Ground-level patios do not offer the elevated views and vantage points that decks provide.

Limited by terrain:

Patios may be more challenging to install on uneven or sloping terrain, often requiring additional landscaping and leveling work to create a suitable surface.

Less customizable than a deck:

While patios offer various material options, they don't provide the same level of design flexibility as decks, which can be built in multiple levels and any size or shape imaginable.

Potential for settling and cracking:

Some patio materials, such as concrete, can be prone to settling or cracking over time, especially in areas with extreme temperature fluctuations or poor soil conditions.
Materials Commonly Used In Patio Construction
Patios can be constructed from a wide range of materials, each offering different aesthetic and functional benefits. Some popular patio materials include:
Concrete:

A versatile and affordable option, concrete patios can be finished in a variety of textures and colors to create a unique look.

Pavers:

Pavers come in various materials like brick, concrete, and natural stone, offering a wide range of colors, shapes, and patterns to suit your style.

Natural stone:

Natural stone patios made from flagstone, slate, or limestone, provide an elegant and timeless appearance.

Brick:

For a classic and traditional look, brick patios offer an attractive and durable surface that is easy to maintain.
A New Era Of Decking: The Stonedeks System Unites Patios And Decks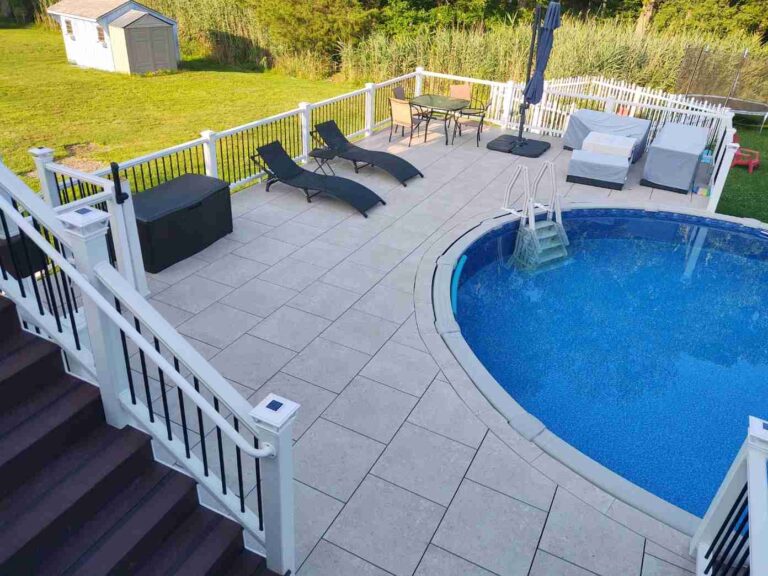 As we've explored the world of decks and patios, it's clear that both options have their unique advantages and disadvantages. However, what if you could combine the best features of both into one stunning outdoor living space? The innovative StoneDeks System allows you to do just that.
The StoneDeks System is a groundbreaking patio decking solution that makes it possible to build elevated stone decks, stone rooftop decks, and even pool decks with stone and pavers. This revolutionary system creates a truly exceptional outdoor space by merging the durability and aesthetics of patio materials like natural stone with the elevated design and flexibility of decks.
Homeowners and contractors can now enjoy the unparalleled beauty and low maintenance of stone, pavers, and tiles without sacrificing the elevated views and design options of decks. The StoneDeks System simplifies the installation process, saving time, energy, and money while delivering a luxurious and long-lasting stone deck.