Are you looking to take your outdoor space to the next level? Adding a multi-level deck is an excellent way to do just that! Not only will it have different areas for different activities, but it also adds visual interest and character. Plus, with so many creative options available today, there's sure to be a design that suits your style and needs. In this article, we'll explore three creative multi-level deck ideas to help you get started on creating your own unique outdoor space!
A Stone Tier with an Outdoor Fire Pit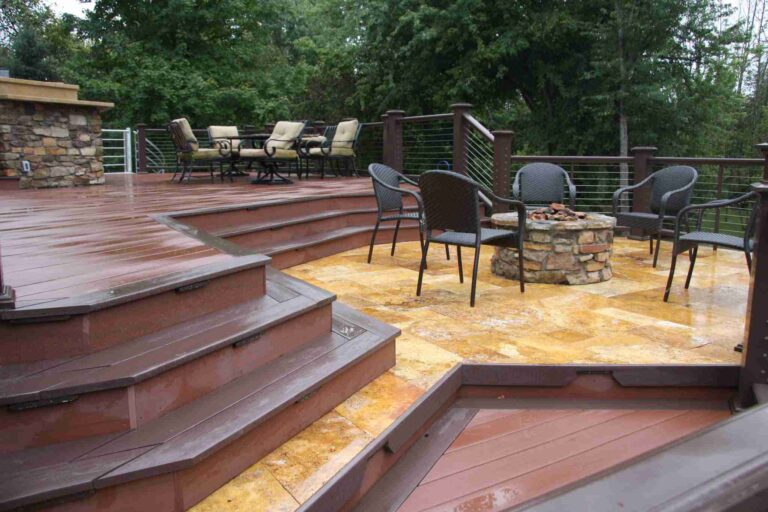 Enhance your deck with a stone tier featuring a cozy fire pit as the centerpiece. This design idea seamlessly combines the warmth and charm of a traditional patio with the functional versatility of a multi-level deck. The stone tier not only adds a touch of elegance and sophistication but also provides a durable surface that can withstand the heat and the test of time.
Imagine the warm glow of the fire pit, surrounded by comfortable chairs, creating an inviting atmosphere for you and your guests to gather around. The fire pit itself can be customized to suit your preferences – from a rustic wood-burning fire pit to a sleek gas-powered one.
Whether it's for hosting lively gatherings with friends and family or simply enjoying a quiet night under the stars, this multi-level deck is sure to become the highlight of your outdoor space.
An Elegant Deck Design with Four Square Platforms
Revolutionize your outdoor space with this elegant multi-level deck design that features square platforms, creating an optical illusion reminiscent of a stairway. The platforms provide distinct activity areas for dining, sitting around the fire pit, or lounging in the sun. This unique design masterfully combines visual appeal with practical functionality, creating a captivating outdoor space that caters to various needs.
The deck was constructed with a wooden platform and a paver surface, all made possible by the innovative StoneDeks System. The StoneDeks System allows you to effortlessly integrate hardscape materials, such as pavers or stone tiles, into your deck construction, creating a visually striking and durable outdoor space that stands out from the rest.
A Green Retreat: Creating Privacy and Dividing Spaces with Plants and Decorative Elements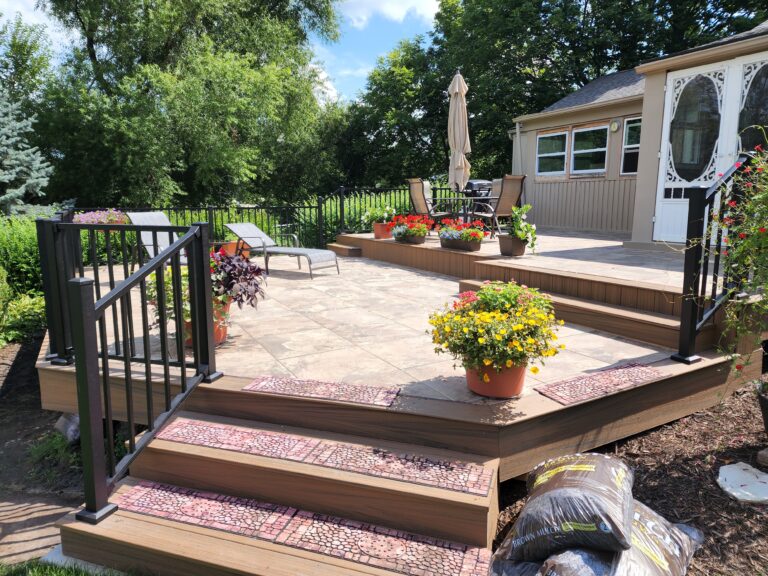 Transform your outdoor space into a natural paradise with this multi-level deck idea that cleverly utilizes planter boxes to create privacy and define distinct activity areas. This two-level deck offers a harmonious blend of natural beauty and functional design, providing an enchanting space where you can relax, entertain, and enjoy the beauty of nature.
In this deck design, planter boxes are strategically placed where the two levels meet, creating a natural divider and adding visual interest to the space. These planters can be filled with a variety of plants, such as flowers, shrubs, or even small trees, to create a natural privacy screen without compromising the open-air feel of your deck. We also incorporated shrubs around the deck, further enhancing its privacy and creating a sense of seclusion.
On the upper level, you might choose to designate a space for dining and socializing. Equip this area with a stylish outdoor dining set, and consider adding an umbrella or pergola for shade and comfort. The lower level could serve as a serene lounge area, furnished with lounge chairs and perfect for unwinding with a good book or soaking up the sun.
Unlock A New World Of Possibilities With StoneDeks!
Ready to discover how the innovative StoneDeks System makes it possible to build decks with stone and pavers? We invite you to explore our solutions to learn more about how our system works and its many applications. By diving deeper into the world of StoneDeks, you'll gain valuable insights into the unique features, benefits, and endless design possibilities this system offers.