Deck tiles are an easy way to upgrade the appearance of a concrete patio or wood deck or install a new walkway or patio. Interlocking tiles made from wood or stone can add texture, color, and pattern to outdoor spaces with significantly less work than cutting and fitting individual decking boards or pouring concrete. But what happens when you have an uneven surface?
In this post, we offer some tips on how to install deck tiles on uneven surfaces to achieve beautiful, long-lasting, and safe stone porches, decks, patios, or walkways.
Is Uneven Ground a Problem for Deck Tile Installation?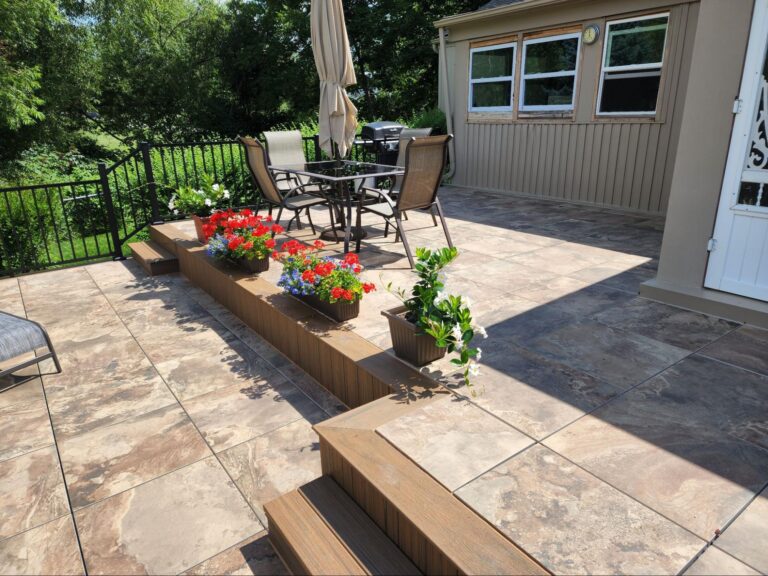 Any time you perform tile installation inside your home, it's critical to have a perfectly level surface. Installing tile over a floor that isn't completely even can cause tiles to shift, cracking the grout and, in some cases, the tiles themselves. 
When working with deck tiles outdoors, it is possible to install them over uneven ground or an uneven concrete surface. You can even cut tiles to fit oddly shaped areas for a custom, finished look.
Some homeowners use a flexible mat underneath the tiles to create a stable surface, but because the mats will bend and flex to fit the contours of the surface underneath, the tiles still won't be perfectly level. 
Installing Deck Tiles on Uneven Surfaces
If you would rather have a level, flat surface for your deck, patio, or walkway, one option is to invest in landscaping and earthwork to prepare the area for tile installation. Installing the tiles over a newly built deck using the frame as a guide is also ideal.
However, when you're remodeling or updating, and have to work with what's already in place, knowing how to install deck tiles on uneven surfaces is important. You have several options:
Use a sturdy base that doesn't conform to uneven ground and supports the tile weight.

Use structural deck supports to float the deck tiles above the concrete pad.

Use a concrete leveling kit to raise sagging or uneven sections of concrete on the pad. 

Use gravel to level the soil under the deck tiles.

Install a new frame on top of the existing pad.
Any of these options will provide a level surface for installing deck tiles to give your outdoor living area a fresh, high-end appearance.
Explore StoneDeks Structural Support Options for Decking Tiles
When you want to upgrade your deck, patio, or walkways with stone deck tile, you need adequate support to ensure safety and longevity. StoneDeks makes it easy to transform outdoor areas with their revolutionary line of support options, including the SilcaGrid, SilcaGrate, and SilcaMat. These support systems help level uneven ground and can withstand the weight of any tile you choose. 
To learn more about StoneDeks' products, get tips on how to install deck tiles on uneven surfaces, and see stone deck ideas and inspiration for your home, check out our blog or contact a professional to evaluate your space and review the options for adding attractive and durable deck tile. To find out more about our services, fill out our online form or call 330-821-1585 to talk to one of our experts.